​
This is our First Cross-server Tournament (CST), which is a good chance for you to know your potential. Worship Winners, Enjoy Blessing and Win Rewards!
Duration:
May 23rd to May 29th
General Rules of CS TournamentWorship Winners, Enjoy Blessing, Win Rewards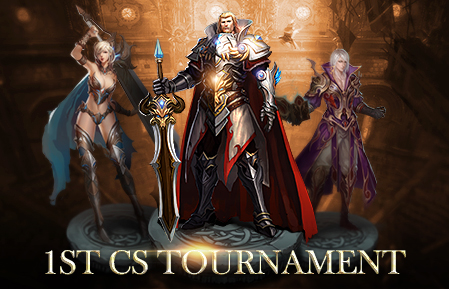 Detailed Rules of CS Tournament:
1. Players of Lvl. 30 and above can participate in CST interaction, and players of Lvl.50 can sign up and fight in CST.
2. Cross-server Tournament will open irregularly.
3. Procedure of Cross-server Tournament: Apply, Group Divided, Heats, Semi-finals, Runoff and Finals. Without applying, players can't fight in CST.
4. Players will be divided into 4 groups according to their levels: the Lower Group (Lvl. 45 to Lvl. 59), the Middle Group (Lvl. 60 to Lvl. 69), the Upper Group (Lvl. 70 to Lvl. 79) and the Top Group (Lvl. 80 and above).
5. The group will be divided according to the level of your first application and will not change if your stats and level get upgrade.
6. Players can update the stats per hour manually during the application.
Description of Finals
1. CST Finals' top 4 out of 16 will be decided according to the points ranking of each group.
2. Top 16 will be divided into Group A and Group B. Players will be ranked according to the points they get in Round robin of each group.
3. Top 4 of each group will be the top 8 of CST, who can claim top 8 rewards.
4. Top 2 of each group will be the top 4 of CST and can fight in Quarter matches.
5. Quarter matches uses dual elimination. After 2 sets of 1v1s, winners remain in the winner's bracket while losers go to the loser's bracket. Player is eliminated from the tournament if he loses again while in loser's bracket. Winners of the winner's bracket and the loser's bracket advance to the final.
How to Blessing
1. The blessing and worship function will be opened after the completion of CS Tournament.
2. Players can worship winner of the Top Group only once per day.
3. Winner of the Top Group has the privilege to open the blessing, all players can enjoy the blessing effect.
4. The blessing can also be changed and will take effect next day.
5. The more players worship the winner during the blessing, the better effect blessing will have on the next day.
6. The effect of blessing will open at 0:00 AM everyday and the effect will last to the next CS Tournament.
R2Games Knight's Fable Ops Team


Official Site:
http://knight.r2games.com
Official Forum:
http://forum.r2games.com/forumdisplay.php?513-Knight-s-Fable
Facebook:
https://www.facebook.com/knightsfabler2
Twitter:
https://twitter.com/r2knightsfable