Requirement
Loop Quest unlocks at Level 28.
Rules
1. Go to City of Spirits and speak to NPC Questmaster-Mary to accept the Loop Quests
2. The accepted loop quest will appear in the Quest Tracker on the right the screen.
3. Finish the quest and then report back to Questmaster-Mary.
4. Questmaster-Mary will give 200 Loop Quests each week. Each day, player can complete 50 to get rewards!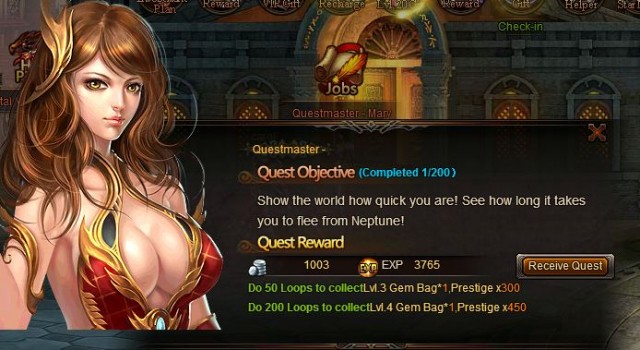 Reward
1. For each quest you complete, you will be rewarded with Silver and EXP.
2. At the completion of the 50th, 100th, 150th, and 200th quests, extra rewards will be delivered such as Prestige, Lvl. 3 Gem and Lvl. 4 Gem.
Official Site:
http://knight.r2games.com
Official Forum:
http://forum.r2games.com/forumdisplay.php?512-Knight-s-Fable
Facebook Page:
https://www.facebook.com/knightsfabler2