​
New event Turning Cards will start on 12/29. Obtain Reindeer Summon Card and Wings of Santa through turning card.
Event duration:
Dec. 29th, 2014 - Jan. 4th, 2015
Note:
You can get rewards until 23:59 in Jan. 5th, 2015

Server:
All servers
Description:
Obtain points in turning cards. Ger rewards from the Point Ranking.
Condition:
You can get "combination bonus" by having certain combination.
Rules:
1. You have several attempts to turn the cards everyday. After using them up, you can buy more through button"+".
2. You can only enter into the next round when you get the required points.
3. The crystal point you get can be used in Card Shop for gears.
4. There are 5 kinds of cards. Different cards have different points. Points of cards: white<green<blue<purple<orange
5. If all the cards in the combination are turned out in one round, you will get extra points as "the combination bonus."
6. The combination of cards must be of one kind, a.k.a. if you have the combination of A+B+C, you will have the three cards in the same color.
7. You can see your points in the Point Rank. The higher you rank, the more chance you have to win the big reward.
8. You can use gears while turning cards. 3 kinds of gears: going back, checking and double points for next attempt
9. You can go back on the card you turned. You won't lose your attempts, but you will lose the points of the card.
10. You can check one card. You won't lose your attempts, neither can you get the points of the card you checked.
11. You can get double points of the card next time.
Best reward:
New mount - Reindeer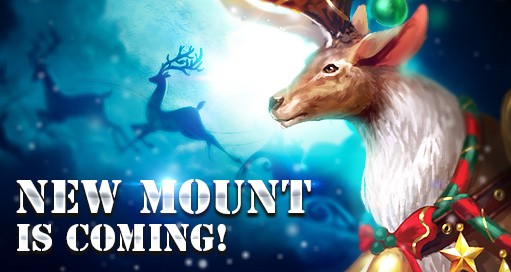 DISCUSS THIS ON THE FORUM